Dear rangers, pilots and commanders!
Have you ever found yourself waiting for a response from the support team, but it just didn't come? Then maybe that response went straight to your email spam folder!
We have seen some cases in the past where email messages from the support team did not end up in players' email inboxes; instead, these replies went…
…to a folder called Spam or Junk on most email platforms.​
…to the Promotions tab in your Gmail inbox (if you are using the pre-sorted Gmail inbox).​
These are two common causes for our email messages not arriving in your inbox as intended, and there are more uncommon ones as well. But please read on…
You can review your support tickets without even using email!
Maybe you do not like using email that much, or you are not sure you can trust an email even if it appears to be sent by us, or you just want to check your support request? This is our solution for you: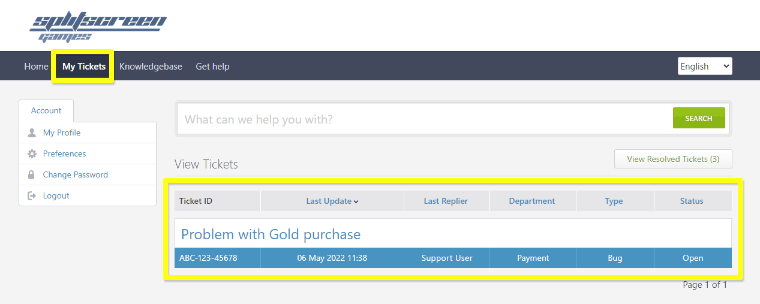 Log in to the support website with your support account and check the My Tickets section!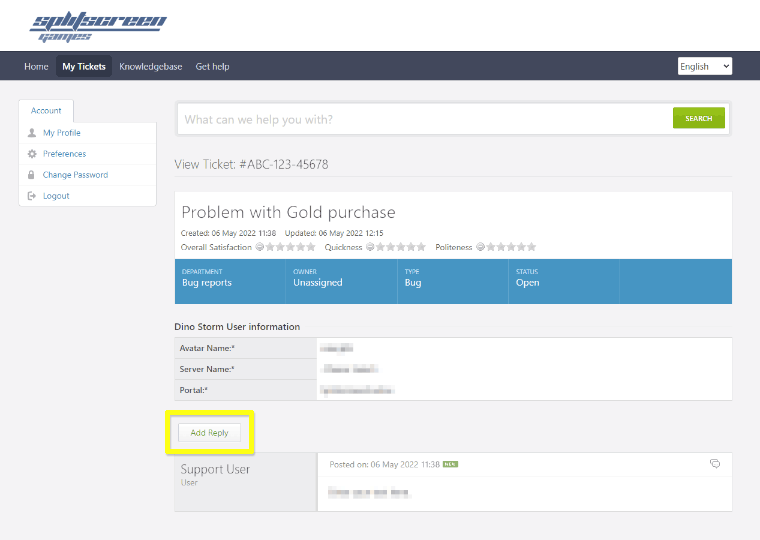 All your tickets are listed there. Select a ticket and you can even add replies!
¡Queridos rangers, pilotos y comandantes!
¿Alguna vez se ha encontrado esperando una respuesta del equipo de soporte, pero no ha llegado? Entonces puede que esa respuesta haya ido directamente a la carpeta de spam de su correo electrónico.
En el pasado hemos visto algunos casos en los que los mensajes de correo electrónico del equipo de asistencia no acababan en las bandejas de entrada de los jugadores, sino que estas respuestas iban…
…a una carpeta llamada Spam o No deseado en la mayoría de las plataformas de correo electrónico.​
…a la pestaña Promociones de la bandeja de entrada de Gmail (si utiliza la bandeja de entrada de Gmail preclasificada).​
Estas son dos causas comunes por las que nuestros mensajes de correo electrónico no llegan a su bandeja de entrada como estaba previsto, y también hay otras más infrecuentes. Pero siga leyendo…
¡Puede revisar sus tickets de soporte sin siquiera usar el correo electrónico!
¿Quizá no le gusta tanto utilizar el correo electrónico, o no está seguro de poder confiar en un correo electrónico aunque parezca enviado por nosotros, o simplemente quiere comprobar su solicitud de asistencia? Esta es nuestra solución para usted: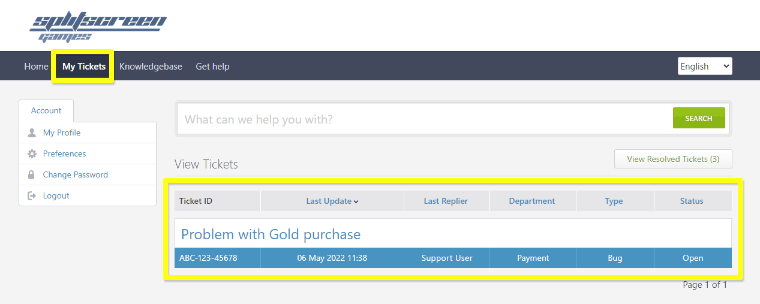 Acceda al sitio web de soporte con su cuenta de soporte y compruebe la sección Mis tickets.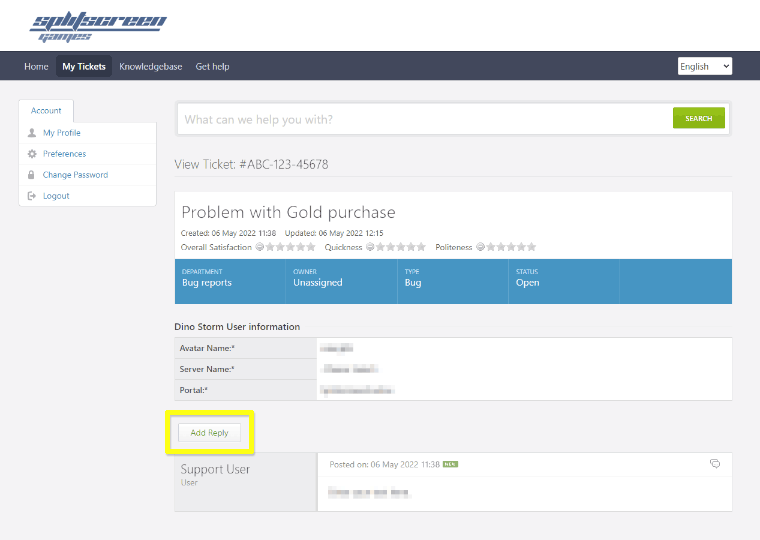 Allí aparecen todas tus entradas. Seleccione un ticket y podrá incluso añadir respuestas.
Caros rangers, pilotos e comandantes!
Você já se viu esperando por uma resposta da equipe de apoio, mas ela simplesmente não chegou? Então talvez essa resposta tenha ido direto para sua pasta de e-mail spam!
Já vimos alguns casos no passado em que mensagens de e-mail da equipe de suporte não acabavam nas caixas de entrada dos jogadores; em vez disso, essas respostas foram…
…para uma pasta chamada Spam ou Junk na maioria das plataformas de e-mail.​
…para a guia Promoções em sua caixa de entrada do Gmail (se você estiver usando a caixa de entrada pré-selecionada do Gmail).​
Estas são duas causas comuns para que nossas mensagens de e-mail não cheguem em sua caixa de entrada como pretendido, e há outras mais incomuns também. Mas, por favor, leia em…
Você pode revisar seus tickets de suporte sem mesmo usar o e-mail!
Talvez você não goste muito de usar o e-mail, ou você não tem certeza de que pode confiar num e-mail mesmo que pareça ter sido enviado por nós, ou você só quer verificar seu pedido de suporte? Esta é nossa solução para você: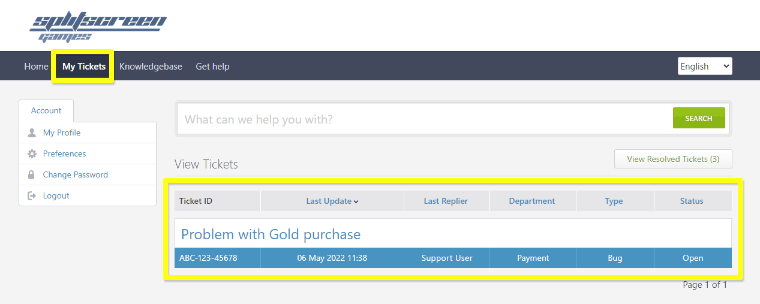 Acesse o site de suporte com sua conta de suporte e verifique a seção Os meus pedidos de suporte!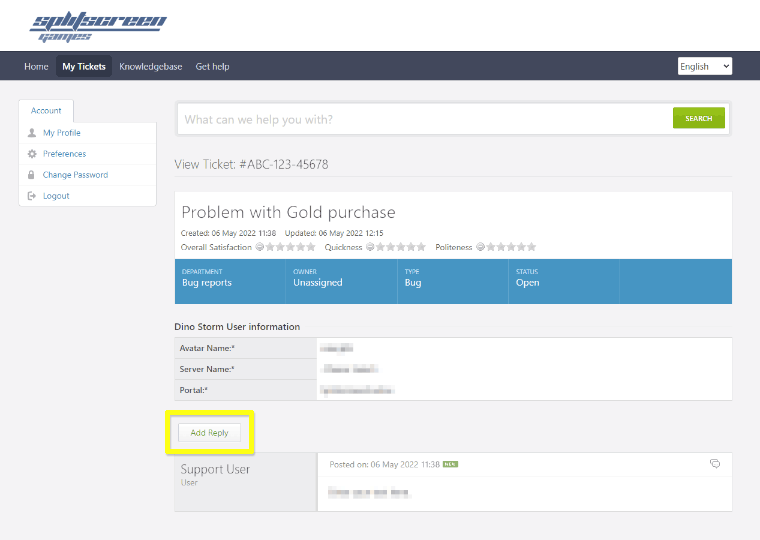 Todas as suas tíquetes estão listadas ali. Selecione um ticket e você pode até mesmo adicionar respostas!
Chers rangers, pilotes et commandants !
Avez-vous déjà attendu une réponse de l'équipe d'assistance, mais elle n'est jamais arrivée ? Alors peut-être que cette réponse est allée directement dans le dossier spam de votre courrier électronique !
Dans le passé, il est arrivé que des messages électroniques de l'équipe d'assistance n'aboutissent pas dans les boîtes de réception des joueurs…
…dans un dossier appelé Spam ou Junk sur la plupart des plateformes de messagerie.​
…à l'onglet Promotions de votre boîte de réception Gmail (si vous utilisez la boîte de réception Gmail pré-triée).​
Il s'agit de deux causes courantes pour lesquelles nos messages électroniques n'arrivent pas dans votre boîte de réception comme prévu, et il en existe d'autres plus rares. Mais lisez bien ce qui suit…
Vous pouvez consulter vos tickets d'assistance sans même utiliser le courrier électronique !
Peut-être n'aimez-vous pas trop utiliser le courrier électronique, ou vous n'êtes pas sûr de pouvoir faire confiance à un courrier électronique même s'il semble être envoyé par nous, ou vous voulez simplement vérifier votre demande d'assistance ? Voici la solution que nous vous proposons: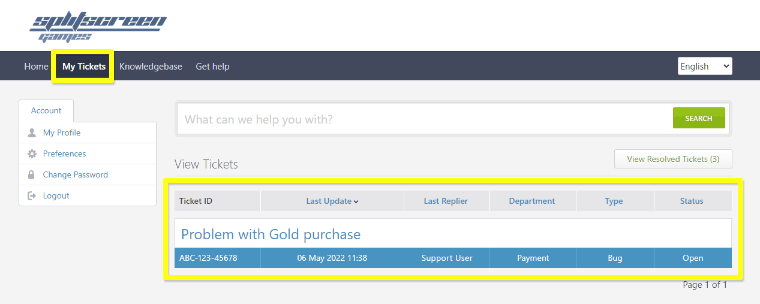 Connectez-vous au site Web de support avec votre compte de support et vérifiez la section Mes tickets !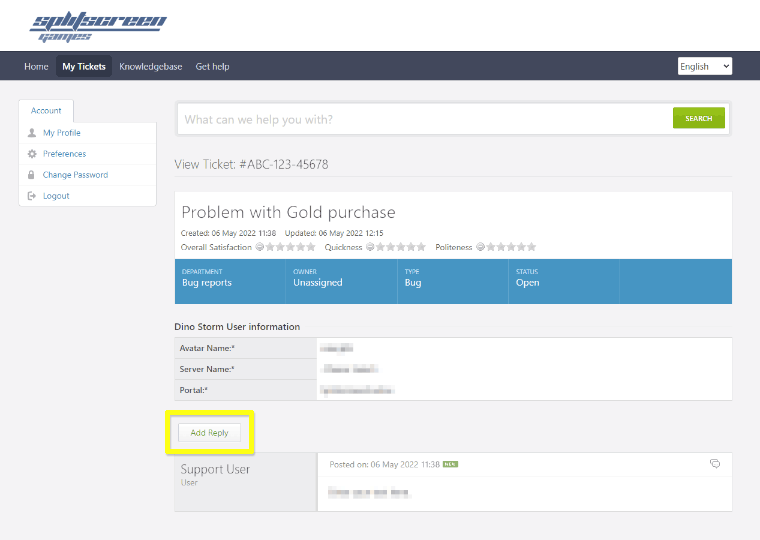 Tous vos tickets y sont répertoriés. Sélectionnez un ticket et vous pouvez même ajouter des réponses !
Liebe Ranger, Piloten und Kommandanten!
Hast du auch schon mal auf eine Antwort vom Support-Team gewartet, aber sie kam einfach nicht? Dann ist diese Antwort vielleicht direkt in deinem Spam-Ordner gelandet!
Wir haben in der Vergangenheit einige Fälle erlebt, in denen E-Mail-Nachrichten des Support-Teams nicht in den E-Mail-Postfächern der Spieler gelandet sind; stattdessen gingen diese Antworten…
…in einen Ordner, der bei den meisten E-Mail-Plattformen Spam oder Junk heißt.​
…in die Sektion Aktionen in Ihrem Google Mail-Posteingang (wenn Sie den vorsortierten Google Mail-Posteingang verwenden).​
Dies sind zwei häufige Ursachen dafür, dass unsere E-Mail-Nachrichten nicht wie vorgesehen in eurem Posteingang ankommen, aber es gibt auch noch andere, seltenere Gründe. Aber lest einfach weiter…
Du kannst deine Support-Tickets überprüfen, ohne dafür E-Mail zu verwenden!
Vielleicht magst du E-Mail nicht so gerne benutzen, oder du bist dir nicht sicher, ob du einer E-Mail vertrauen kannst, auch wenn sie scheinbar von uns gesendet wurde, oder du möchtest einfach nur deine Support-Anfrage überprüfen? Hier ist unsere Lösung für dich: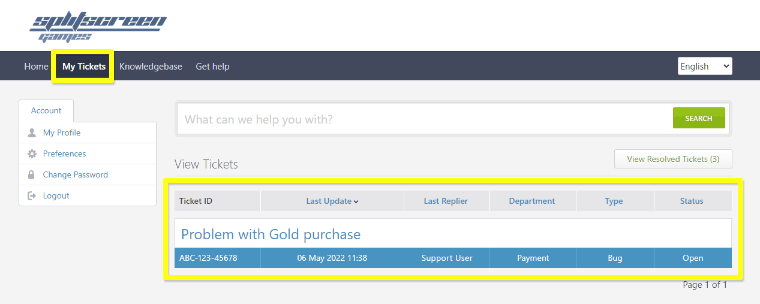 Logge dich auf der Support-Website mit deinem Support-Konto ein und sieh dir den Bereich Meine Tickets an!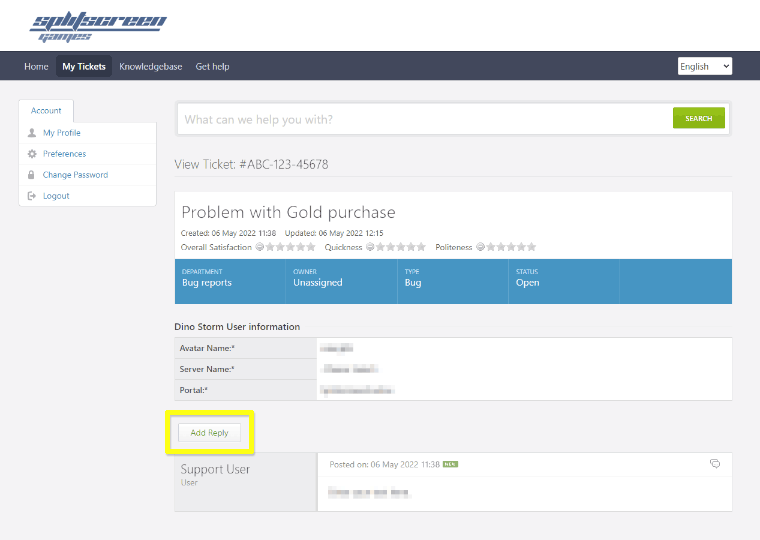 Alle deine Tickets sind dort aufgelistet. Wähle ein Ticket aus und du kannst sogar Antworten hinzufügen!